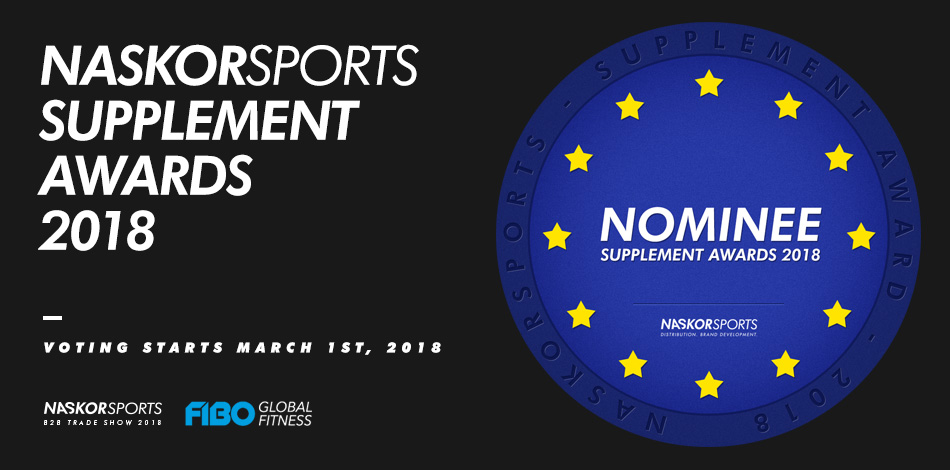 Naskorsports Supplement Awards 2018
NaskorSports proudly presents the 2018 NASKORSPORTS SUPPLEMENT AWARDS. The NASKORSPORTS SUPPLEMENT AWARDS will honor brands and products in 17 categories. The best, most popular and most successful brands and products in Europe will be recognized.
Voting starts on March 1st and ends March 31st at midnight.
Each NaskorSports customer is allowed to vote. If you are not a customer of NaskorSports but you want to vote, please contact info@naskorsports.com.
The NASKORSPORTS SUPPLEMENT AWARDS will be presented at the NaskorSports booth at the NASKORSPORTS B2B TRADE SHOW 2018 in Cologne on Friday April 13th, 2018 at 14:00h. The B2B Trade Show will be hosted in the exhibition hall "Kristallsaal" at Koelnmesse during the FIBO.
WIN AN ALL-INCLUSIVE TRADE SHOW PACKAGE
Among all voters, NaskorSports will raffle off a trip for 2 persons to the 2018 NASKORSPORTS B2B TRADE SHOW (April 12th-13th) and the FIBO (April 12th-15th) in Cologne, Germany. The trip includes flight, hotel and free entry to both shows! The winner will be contacted after the voting period has ended.
Please vote for your Nominee in each category and confirm your selection with the vote button at the end of this site.
Please confirm your vote by clicking the "vote" button.